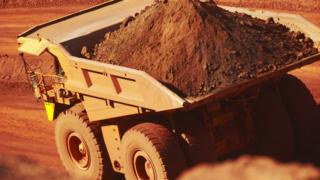 BHP Billiton sinks to $5.67bn loss
Mining giant BHP Billiton has posted a huge half-year net loss of $5.67bn (£4bn) and warned that weak commodity prices will continue.
The figure for the six months to December compared with a profit of $5.35bn for the same period in 2014.
Lower commodity prices slashed revenue by 37% to $15.7bn, sending underlying profit down 92% to $412m.
BHP took the axe to the interim dividend, reducing it from 62 cents a share to 16 cents.
"While we were prepared for lower prices across our commodities, we now believe the period of weaker prices and higher volatility will be prolonged," BHP said.
Mining companues such as BHP are under increasing pressure as a slowdown in China"s economy results in lower demand for key commodities, such as iron ore and coal.