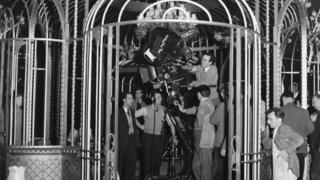 Douglas Slocombe, Ealing comedies and Indiana Jones cinematographer, dies
British cinematographer Douglas Slocombe has died at the age of 103, his family has said.
Slocombe shot 80 films, from classic Ealing comedies such as he Lavender Hill Mob and Kind Hearts and Coronets, to three Indiana Jones adventures.
In 1939 he filmed some of the earliest fighting of World War Two in Poland.
He won Baftas for the Great Gatsby, The Servant, and Julia, while his other work included the Italian Job and Jesus Christ Superstar.
Among his own favourites was Kind Hearts and Coronets, the Ealing Studios classic of 1949, starring Alec Guinness and Joan Greenwood.
A decade earlier, as a young newsreel cameraman, London-born Slocombe had shot parts of the Nazi invasion of Poland.
The quality of that footage, which was used in the documentary Lights Out in Europe, persuaded Ealing to employ him.
Steven Spielberg chose Slocombe, then nearing 70, to shoot Harrison Ford in Raiders of the Lost Ark and then two further Indiana Jones films in the 1980s.
Slocombe"s daughter said he died in hospital in London.