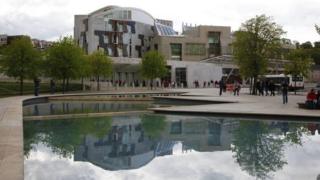 Fiscal framework: Scottish and UK governments agree deal
The Scottish and UK governments have reached a financial agreement to support new devolved powers.
Negotiations over the fiscal framework have been going on since March 2015, with a lengthy deadlock over the issue of Scotland"s block grant.
First Minister Nicola Sturgeon is to make a statement to MSPs at 17:30.
MSPs wanted an agreement sealed by Tuesday to allow time for Holyrood to scrutinise the deal.
George Osborne is to give a statement in London about the deal, which is the financial basis for new powers to be devolved as part of the Scotland Bill.
Ms Sturgeon and Finance Secretary John Swinney had told MSPs that there was only one issue outstanding in the talks, the substance of a five-year review of the agreement.
The two sides have disputed a key line of the Smith Commission agreement on new powers, which said there should be "no detriment" to either the UK or Scottish budgets as a result of the deal.
Ms Sturgeon said the original offer could have seen Scotland"s budget "reduced systematically" following the review, but BBC Scotland understands the new deal will see the review carried out without any expectation of Scotland taking on an extra financial burden.