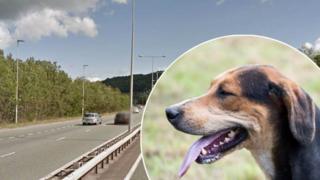 Dog dies after being deliberately run over by police in Conwy
A dog has died after being deliberately run down by police on the A55 in Conwy, North Wales Police has confirmed.
The foxhound was running toward oncoming traffic between the Llanfairfechan roundabout and the Conwy tunnel in the early hours of Tuesday.
The force said officers could not bring the dog under control and the "only safe option" was to destroy it.
Ch Insp Darren Wareing said they "did not take this decision lightly".
Officers responded to reports the animal was running in traffic shortly after 03:00 GMT on Tuesday.
"Real risk"
An officer tried to bring the dog under control but was bitten and it escaped.
A spokesman for the force said it "posed a serious threat to motorists", leaving officers with no other option.
"In the dangerous circumstances officers at the scene decided the only safe option was to run the dog over at sufficient speed to ensure that it was destroyed and would not suffer," he added.
Ch Insp Wareing, of the roads policing unit, said: "The officers did not take this decision lightly, it clearly is not something they wanted to do, they were faced with a situation that was presenting a real risk to the public and due to the seriousness of the incident and imminent danger to motorists of a serious collision they had to bring the incident to a safe conclusion.
"Fast roads such as the A55 present inherent risks and to have HGV and car drivers having to swerve in the dark was deemed unacceptable as the officers witnessed a number of near misses and were highly concerned about the potential aftermath of a high speed collision."