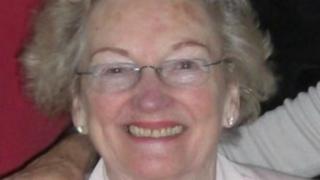 Man guilty of Georgina Edmonds murder after fresh DNA clues
A man has been found guilty of beating a pensioner to death with a marble rolling pin, four years after being cleared of the same crime.
Georgina Edmonds, 77, was found dead at her home near Eastleigh, Hampshire, in January 2008.
Matthew Hamlen 36, tortured the widow for her debit card Pin codes.
He was initially cleared of the murder in 2012. Under new double jeopardy legislation, he was convicted following a review of DNA evidence.
The jury of three women and nine men at Winchester Crown Court returned a unanimous verdict.
Hamlen, from Bishopstoke, showed no emotion as the verdict was read out, the sound of crying could be heard from the public gallery.
He will be sentenced on Wednesday.
The widow, who lived alone, was found in her country cottage by her son, bludgeoned and stabbed to death, on 11 January 2008.
A two-year manhunt began in 2008 with almost 2,000 DNA samples taken from local people in an attempt to identify the killer.
Double jeopardy
The prosecution claimed DNA and telephone evidence placed Hamlen at the scene, but he repeatedly denied the killing.
He had been acquitted of the murder in January 2012, but the removal of the legal principle of double jeopardy in the 2003 Criminal Justice Act meant he could be put on trial for the same crime.
The Court of Appeal ruled a new DNA sample found on Mrs Edmonds" blouse represented "new and compelling" evidence and quashed the original verdict.
---
Georgina Edmonds Murder Investigation
---