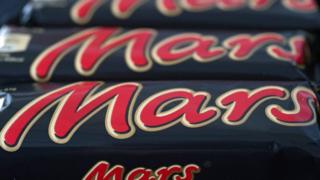 German recall of Mars and Snickers bars
Chocolate maker Mars recalls Mars and Snickers bars in Germany after bits of plastic are found in a product
Other products affected include Milky Way Minis and Miniatures and certain kinds of Celebrations confectionary boxes.
The products involved have best before dates from June 19, 2016 to January 8, 2017.
The US chocolate maker produces around 10 million snacks daily at its factory in western Germany"s Viersen.
The company said in a statement: "Mars Chocolate is carrying out a voluntary recall of chocolate products of Mars, Snickers, Milky Way and Celebrations after plastic was found in a product."
A spokesman was unable to say if Tuesday"s recall was the biggest ever in the company"s history.