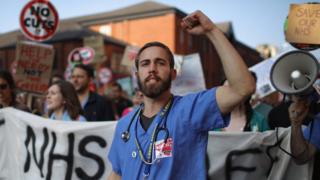 Junior doctors set to hold more strikes
Junior doctors are to take part in three more strikes and launch a judicial review as part of their fight against the government"s decision to impose a new contract in England.
The announcement by the British Medical Association comes two weeks after ministers said they would force the changes on doctors from the summer.
Ministers say the contact, which involves paying doctors less to work Saturdays, will improve services.
But the BMA says it is unfair.
The three strikes in March and April will each last 48 hours, although emergency cover will be provided:
BMA junior doctor committee chair Dr Johann Malawana said the government still had an opportunity to avert the action by re-entering talks with the BMA to reach a compromise on the contract.
"The government must put patients before politics, get back around the table and find a negotiated solution to this dispute," he said.
The news comes hours after the government"s former patient safety adviser has said ministers were wrong to impose the contract.
Prof Don Berwick, who led a review for government on safety three years ago, said there should be a three-year moratorium on the imposition of the new contract.
He said the NHS had a "demoralised" workforce and needed to find another way out of the "mess".
Speaking at an event in London at the King"s Fund think-tank, Prof Berwick said: "You cannot achieve excellence in combat with your future workforce, it makes no sense at all.
"So you need to find a way to de-escalate… I think the government should apologise."
But Prof Berwick, who has also acted as a health adviser to US President Barack Obama, said there did not need to be resignations but urged ministers to acknowledge their "mistake".
He also urged junior doctors to have "some courage and generosity" and embrace some of the changes being made.
---
How far apart were the two sides?
Want to know more?
Was a contract deal ever possible?
The junior doctors row explained
What exactly do junior doctors do?
---
Prof Berwick is the most high profile figure yet to speak out against the decision to impose the new contract.
Health Secretary Jeremy Hunt made the announcement on imposition earlier this month after talks with the British Medical Association broke down.