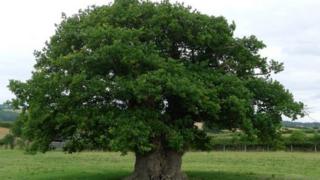 Newtown"s Brimmon Oak fate awaited over bypass plan
Campaigners trying to save a 500-year-old tree in Powys are waiting to learn its fate.
Almost 5,000 people signed a petition to save The Brimmon Oak, Newtown, which is under threat from a new bypass.
The Welsh government is considering bending the bypass to accommodate the oak. It will be discussed by its petitions committee on Tuesday.
"We"re not against the bypass, we just want them to move it over a bit," said campaigner Rob McBride.
Mervyn Jones, who owns the land the tree sits on, believes the roots will be damaged and it will die if the road is not far enough away.