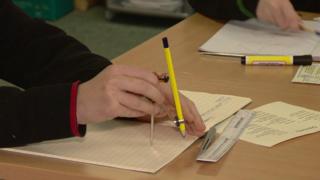 Poor GCSEs could kill Northern Powerhouse hopes, Ofsted chief warns
Failing schools risk causing plans for the government"s so-called Northern Powerhouse to "splutter and die", the Ofsted chief has warned.
Secondary schools in Liverpool and Manchester are "not firing on all cylinders" due to deteriorating GCSE performances, Sir Michael Wilshaw said.
This could result in a "lack of skills" for the northern economic growth plan, a letter from the watchdog said.
Manchester City Council said "measures are in place to overcome the dip".
Liverpool City Council has yet to comment.
"Pioneering cities"
In a speech to the Institute of Public Policy Research think tank, chief inspector of schools Sir Michael said: "These are the cities that built Britain.
"They pioneered a modern, civic education when students at certain other universities spent most of their time studying the New Testament in Greek."
He said Manchester and Liverpool "boast eight universities between them, two of which are among the top 200 in the world".
"If these cities can provide a world-class education for youngsters at 18, why on earth are they failing to do so for too many at 11?" he said.
"At some point, politicians in Manchester and Liverpool will have to accept that the Northern Powerhouse will splutter and die if their youngsters lack the skills to sustain it."