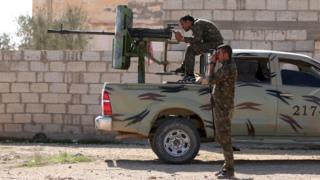 Syria conflict: Warring parties accept US-Russia truce plan
The Syrian government and the main opposition umbrella group say they accept the terms of a deal to cease hostilities from Saturday.
The government said it would halt "combat operations" in line with the plan announced by the US and Russia.
But the opposition said its acceptance depended on government forces ending sieges and air strikes of civilians.
The deal will not apply to the two main jihadist groups in Syria, Islamic State (IS) and the rival al-Nusra Front.
Al-Nusra is an affiliate of al-Qaeda and forms part of a major rebel alliance.
The UN has conceded that enforcing the plan on the ground will be challenging.
More than 250,000 people have died in almost five years of war in Syria.
Eleven million others have fled their homes as forces loyal to President Bashar al-Assad and those opposed to his rule battle each other, as well as IS militants.