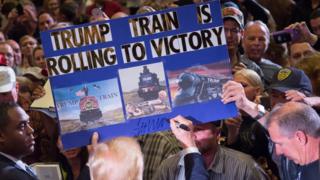 US election 2016: Trump is betting on big win in Nevada
Republican candidates are set to face off in caucuses in the US state of Nevada in the fourth test to take the party"s nomination for president.
Frontrunner Donald Trump, currently polling top in the state, is hoping to seal his lead after consecutive wins in New Hampshire and South Carolina.
Nevada, typically a swing state with a substantial Latino population, is crucial to the election process.
Hillary Clinton won the state on Saturday in the Democratic race.
Live coverage: Tracking the results in Nevada
She beat rival Bernie Sanders by five percentage points, and both candidates are now focusing their campaigns on the black vote in South Carolina, where the next Democratic vote takes place on Saturday.
The aim of the primary and caucus races in the coming months is to determine which candidates will stand for the two main parties in the November presidential election.
Some 30 delegates – more than 1% of the total – are up for grabs in the Nevada caucuses, the first Republican test in the west of the United States.
The next Democratic and Republican votes will be crucial ahead of the "Super Tuesday" round on 1 March – when about a dozen states choose their party candidates, with about a quarter of all nominating delegates up for grabs.
---
The Republican race
Could a Canadian be US president? Does it matter where a country"s leader is born?
The rapid, rocky ascension of Ted Cruz: Mr Cruz didn"t come to Washington to make friends
Rubio and his fight to be heard: A promising candidate struggles to catch fire
---
Donald Trump has consistently polled high in Nevada with a double-digit lead. The latest poll by CNN/ORC gave him 45% of support, followed by Senator Marco Rubio with a distant 19% and Senator Ted Cruz with 17%.
Though Nevada has relatively few delegates, it will be seen as a test on how the Latino vote is spread amid Mr Trump"s staunchly anti-immigrant campaign.
The billionaire from New York locked horns with Texas Senator Ted Cruz on Monday, attacking his campaign tactics and describing his rival as "sick". It comes after Mr Cruz fired his campaign spokesman over a doctored video that discredited Senator Rubio"s views on the bible.
Mr Cruz hit back on Tuesday, accusing Mr Trump of "vacillating" on his campaign issues and policies. Marco Rubio, meanwhile, has been urging registered Republicans to turn out in force for the caucuses.
"I need your vote tonight!" Mr Rubio, considered a the preferred candidate among more moderate Republicans, told a rally on Tuesday.
Rivalry between Mr Cruz and Mr Rubio – both Latino senators – has also intensified in recent days, with both candidates attacking each other on the campaign trail.
Elsewhere, retired neurosurgeon Ben Carson, who is trailing the Republican pack alongside Ohio Governor John Kasich, hit the headlines after suggesting US President Barack Obama had been "raised white".
For his part, John Kasich is focusing campaign efforts on the bigger states of Virginia and Michigan.
The caucuses, which begin at 17:00 local time (01:00 GMT Wednesday) and last three hours, allow Republican supporters to hold an open discussion about their favourite candidates before they vote in a secret ballot.
The Republican field, which numbered a dozen one month ago, has been whittled down to five, after one-time establishment favourite Jeb Bush dropped out of the race in South Carolina last weekend.