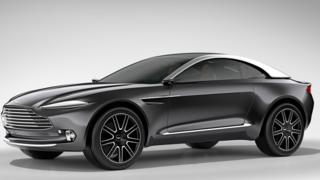 Aston Martin creates 750 jobs in St Athan
Aston Martin is to build its new luxury car in south Wales, creating 750 highly-skilled jobs.
The DBX Concept car will be hand-made in the super hangar at St Athan in the Vale of Glamorgan.
It is a major coup for Wales, which took two years to secure the deal ahead of 20 locations across the world.
As well as attracting one of motoring"s most prestigious names, it could help boost hundreds of jobs in the supply chain.
The formal announcement will be made at a news conference in Cardiff on Wednesday.
It will include a skills academy, which will make St Athan and the Vale of Glamorgan a centre of excellence.
Work on the factory will start in 2017 and production will start three years later.
The value of the deal is in the hundreds of millions of pounds, although the Welsh government will not comment on the amount of support it is giving.
In its 103-year history Aston Martin – which will keep its headquarters and factory at Gaydon in Warwickshire – has only sold just over 70,000 cars.
To continue to survive at the luxury end of the market it has been looking at broadening its range to appeal to younger – and female – customers.
The car – which is an all-electric 4×4 and expected to cost at least £160,000 to buy – was unveiled at the Geneva motor show last year.
New Aston Martin chief executive Dr Andy Palmer said then that the company envisaged a world "perhaps a world not too far away, when luxury GT travel is not only stylish and luxurious but also more practical, more family-friendly and more environmentally responsible".
The design team had in mind a driver who was a young woman, American – and rich. The fictitious customer was dubbed Charlotte and seen as "an attractive lady, cool, in her 30s".
First Minister Carwyn Jones said it was the start of a long-term relationship between Wales and Aston Martin.
"We will work together in building on the strong foundations of our partnership to nurture a prosperous and rewarding future for this iconic company and its skilled workforce in Wales," he said.
ASTON MARTIN THROUGH THE YEARS
A GEAR CHANGE FOR THE WELSH CAR INDUSTRY
Minister for Economy Edwina Hart called it a "significant moment in the history of the automotive sector in Wales".
Indeed, for the Welsh car industry this is a tremendous pat on the back.
It will also put it at the forefront of developing eco-friendly performance vehicles.
Apart from the short-lived Gilbern in the 1960s and early 1970s, whole cars have not been made in Wales before.
But there are 150 companies in Wales making car components, employing 18,000 workers and with a combined turnover of £3.3bn.
Some already make parts for Aston Martin but these are relatively few. But there are many others which already supply Jaguar, Land Rover, Ford and Honda – a record Aston Martin will have taken notice of.
The company also said it was "consistently impressed with the focus on quality, cost and speed from the Welsh government team".
Wales" status as a maker of parts for car assembly plants beyond its borders is about to change – and with style.
Think Aston Martin and you think James Bond, glamorous women and a sense of cool and from 2020, Wales will be part of that world too.