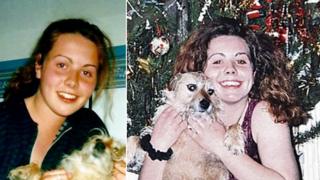 Deepcut recruit Cheryl James "made shooting remark"
A teenage soldier found dead at an Army barracks told a friend it would be "really easy to shoot yourself", her inquest heard.
Yvonne Sneddon told the court Cheryl James made the "odd" remark on a coach back to the Deepcut base after she had been drinking.
She said the conversation was a few months after another recruit had been found shot dead at the Surrey barracks.
Pte James had not been "mucking about", Ms Sneddon said in a statement.
"It sent a chill through me," she said.
Pte James, 18, from Llangollen, in north Wales, was found shot dead at the barracks in November 1995 – the second of four recruits to die suddenly there during a seven-year period.
Months earlier, Pte Sean Benton, 20, had been found dead at Deepcut with five bullet wounds while on guard at a perimeter fence.
The inquest continues.