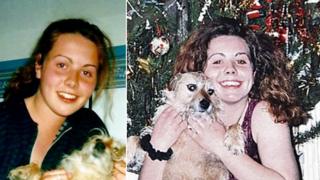 Deepcut recruit Cheryl James "ordered to soldier"s room"
A teenage recruit found dead at an Army barracks told a fellow soldier she had been ordered to meet another private in his room, her inquest has heard.
Mark Beards said Pte Cheryl James told him a sergeant had told her to do it. Mr Beards assumed it was for sex.
Pte James, 18, was found shot dead at Deepcut barracks in November 1995.
Another former soldier told the inquest the night before her death she asked him for sex in front of her boyfriend.
Andrew Carter, who was with the Royal Logistics Corps at the time, said Pte James had been out drinking and returned to the men"s lodgings with Pte Paul Wilkinson, whom she had started seeing.
Shooting remark
Mr Carter, who was in the eight-bed room, told the court she asked him whether he would like to have sex.
He said: "I was quite shocked and surprised, and Paul was quite agitated."
Another witness told Woking Coroner"s Court Pte James had told her it would be "really easy to shoot yourself".
Yvonne Sneddon said her friend had made the "odd" remark on a coach back to Deepcut after she had been drinking.
Who were the Deepcut four? Background to the deaths and timeline of events
She said the conversation occurred a few months after another recruit, Pte Sean Benton, had been found shot dead at the Surrey barracks.
Pte James had not been "mucking about", Ms Sneddon said in a statement.
"Pestered for sex"
"It sent a chill through me," she said.
Pte James, 18, from Llangollen, north Wales, was found shot dead at the barracks in November 1995 – the second of four recruits to die suddenly there during a seven-year period.
The hearing heard Pte James had not seemed "very keen" on the Army, and Mr Carter said there had been a rumour after her death that she was "being pestered for sex by a member of staff at Deepcut".
The inquest continues.