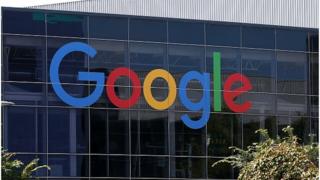 Google tax deal "seems small" say MPs
An influential group of MPs has criticised an agreement between Google and the tax authority over how much the company has to pay in back taxes.
The Public Accounts Committee (PAC) said the £130m settlement "seems disproportionately small"
This was in comparison with the size of Google"s business in the UK.
The internet giant insists that it paid a "fair" amount of tax while Chancellor George Osborne hailed the deal as a "victory".
The PAC chair, Meg Hillier, MP said public anger at the agreement to cover taxes due over the past 10 years had been "palpable"
"Settled for less"
The committee said it was not possible to judge whether the agreement had been fair to taxpayers, because of the lack of transparency over details of the settlement and how it was reached.
It was concerned the taxman "appears to have settled for less" corporation tax from Google than other countries are willing to accept.
It called for HMRC to reopen the deal if new evidence became available as a result of investigations by other European authorities.
In its recommendations to government, the Committee called on HMRC "to lead the way in pressing for changes to international tax rules to prevent aggressive avoidance by multinational companies."