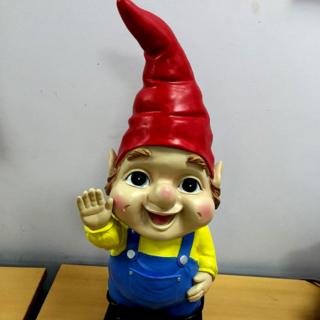 Man carrying gnome sparks police alert on M60 in Greater Manchester
A man who was reported to police for carrying a "small child" on the M60 was found to be holding a garden gnome.
Concerned drivers contacted police after the man was spotted near junction two of the motorway in Greater Manchester on Tuesday afternoon.
He was later arrested on suspicion of a public order offence.
Officers tweeted: "Earlier we had a lady taking her dog for a walk on the M60 now we have a man carrying a gnome."
Greater Manchester Police tweeted a photo of the gnome saying: "Now safe and well in our office after being taken from a pedestrian M60 J2. This is a Missing from Gnome Enquiry!"
One road user tweeted: "Did I really just see a dude walking along the hard shoulder of the M60 carrying a gnome."
Another added: "Just seen a man carrying a gnome down the M60. Best commute ever."