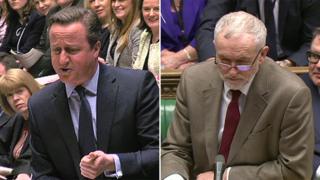 PMQs: Cameron tells Corbyn to smarten up appearance
David Cameron has told Jeremy Corbyn to smarten up his appearance during Prime Minister"s Questions.
The prime minister said his mother would advise the Labour leader to "put on a proper suit, do up your tie and sing the national anthem".
He was hitting back at a jibe from a Labour MP about his mother.
The Labour leader took a few moments to respond as Tory MPs barracked him, before offering some "motherly advice" about standing up for a free NHS.