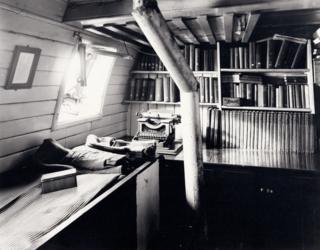 What books were taken to the Antarctic 100 years ago?
When Sir Ernest Shackleton set off for Antarctica on his ship Endurance, he made sure he had plenty of reading material. But details of precisely what books he took have remained hidden in this photograph – until now.
The image from the ill-fated South Pole expedition – taken in early March 1915 by Australian photographer Frank Hurley – has been digitised by the Royal Geographical Society in London.
It is now known that the explorer carried with him dictionaries, encyclopaedias and books chronicling other dangerous polar expeditions.
He took established works by Dostoyevsky and Shelley – but also, explains Alasdair MacLeod from the RGS, "newly published fiction by popular authors of the time".
"The cabin wall on the left also shows a framed print of Rudyard Kipling"s poem "If", which Shackleton carried with him on to the ice floe when the ship sank."
In January 1915, Endurance and her crew became trapped in ice in the Weddell Sea. Shackleton and his men would remain there for 10 months – until the ship sank. They then spent the best part of another year on the ice, before all 28 of them were rescued.
Scroll down to see the full list of books identified by experts at the RGS – and see more stark images of Shackleton"s struggle for survival.
Books on Shackleton"s bookshelf:
Photo digitisation process completed with help from Picturae.
Enduring Eye: The Antarctic Legacy of Sir Ernest Shackleton and Frank Hurley can be seen at the RGS in London until Sunday 28 February 2016.