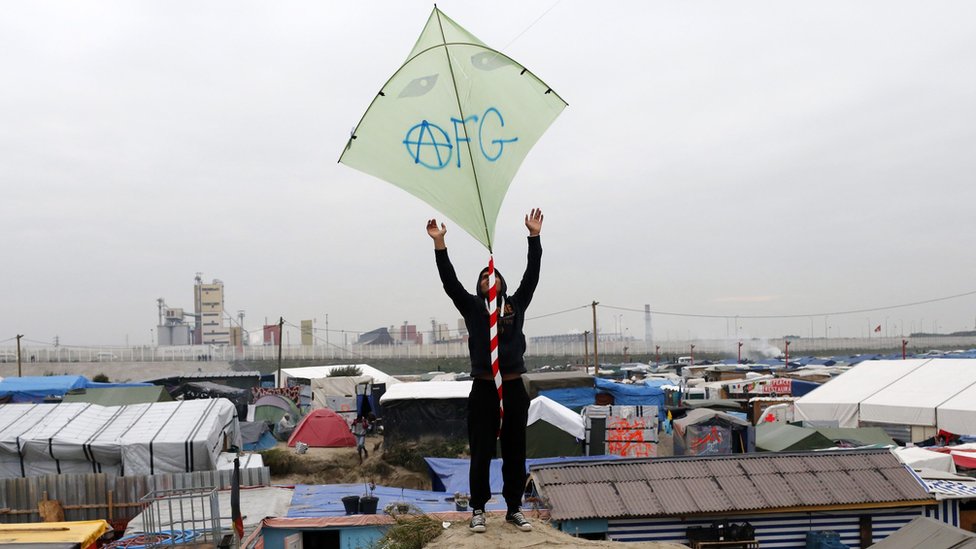 Calais migrant children "delay" concerns ex-archbishop
The government has been accused by a former Archbishop of Canterbury of dragging its feet over accepting children from Calais"s Jungle camp.
Rowan Williams said "the clock is ticking" because of the expected demolition of the site next week.
Fourteen migrant children are due to arrive in the UK from Calais within hours to be reunited with relatives.
But Lord Williams said no process had yet been put in place to accept children without relatives in the UK.
Home Secretary Amber Rudd last week indicated unaccompanied children, both those with and without relatives in the UK, would be allowed into Britain.
An EU regulation allows children to seek UK asylum because they have close relatives in the country but a number of other children became eligible for admission under an amendment to the Immigration Act introduced in May by Lord Dubs.
Speaking on BBC Radio 4″s Today programme, Lord Williams said the UK had a "basic moral imperative" to offer security to "deeply traumatised and deeply needy people".
He said: "We have the beginnings of some sort of response to what is still a hugely troubling and very troubling situation."
Lord Williams said more than 3,000 places for children without relatives in the UK had been offered by 44 local councils.
He said while it was "very welcome that at last the government has taken some official steps to get the children coming… I"m not sure why there is such foot-dragging".
He added: "But we have had confirmation that the home secretary is eager to see movement… and we want to press that willingness and make sure it delivers".
Under the EU rules, asylum claims must be made in the first safe country a person reaches, but children can have their claim transferred to another country if they have family members living there.
Meanwhile, the Local Government Association, which represents local authorities in England and Wales, has said councils will require long-term help from the government so the support of unaccompanied children is "properly funded".
"Matter of urgency"
Those arriving in the UK later, who include Afghans, Syrians and stateless Bidun children who originated from Kuwait.
They are among about 100 minors who will be brought over by the Home Office before the Jungle camp is dismantled.
On arrival from Calais, the children"s first task will be to register with the Home Office in Croydon.
Their families will be waiting for them in nearby churches that have been opened up to host the reunions.
Lord Williams is one of several religious leaders who will also be there to meet them.
A Home Office spokesperson said: "Our priority must be to ensure the safety and security of the children in the Calais camp.
"Work is continuing on both sides of the Channel to ensure this happens as a matter of urgency."
The charity Citizens UK, which is working alongside the government, echoed Lord Williams"s concerns over the plight of children with no family connections in the UK.
"These are children who are particularly vulnerable. It appears that no system has been put in place to register and assess these children, despite assurances from home secretary".
It is estimated up to 10,000 people are living in the Jungle, which is situated near the port of Calais, and close to the 31-mile Channel Tunnel.
Many of the migrants in northern France attempt to reach the UK by boarding lorries as they approach ports or the tunnel.
French President Francois Hollande wants to move the inhabitants of the Jungle to reception centres across the country and demolish the camp.
Aid groups have raised concerns that the planned closure will lead to children disappearing before they are processed.