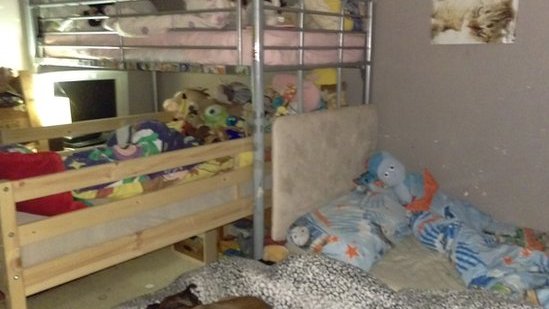 Would you rent a home with mould and silverfish?
Second-hand smoke, bad insulation, damp, mould, and silverfish. Would you move in somewhere if you knew this is what you"d have to deal with?
The housing charity Shelter has said 40% of people in the UK live in homes that do not reach acceptable standards in terms of cleanliness, safety and space.
This includes criteria such as having enough bedrooms, living somewhere affordable and living in a safe and secure area.
We"ve been speaking to some people who think it"s time they had better standards of living in their accommodation.
---
Emma Worth lives in Dedworth, near Windsor:
This is the bedroom she shares with her three children.
"I"m in a one-bed maisonette with my three children. We all sleep in one bedroom with one double bed and three single beds. It"s not big enough. I"ve been here 11 years and on the waiting list for larger accommodation for a long time.
"By the time my daughter was 10 she should have had her own room. She"s recently had an assessment for ADHD. It"s tough for her.
"We had abuse from neighbours for years but they"ve been moved to a nice three-bedroom accommodation. Why move tenants who are trouble? All my floors are concrete under the carpet, the walls are really thin and I get condensation in the windows. There is some mould in the bathroom and damp in the bedroom. If I had a garden it would be amazing. There is communal space but it"s not always nice."
---
Karolina lives in London:
"I live in a cold, obscure and mouldy council estate flat in Elephant and Castle that I have been sharing with two friends since January 2015. There are three bedrooms, one of which used to be the lounge. We have nowhere to sit except the small kitchen.
"The bathroom ceiling is covered in mould. My room has no radiator. I have a small heater but that takes up a lot of electricity. We have to keep topping up our meter. Whenever I make a new friend I am embarrassed to invite them over, especially for dinner, as there is no table to dine at, because the kitchen is too small to fit one in and there is no living room.
"On top of that, my room is a patchwork of furniture found on the street and plastic storage boxes."
---
Dini lives in south London with her partner and daughter:
"We are in a shared-ownership scheme but since moving here a few months ago there have been problems.
"We can smell drugs in the communal areas, which is not good for those with children. The housing association says they can"t do much but we could fill out an anti-social report. However, this may affect our ability to sell in the future. Dogs are kept without agreement and are using the shared garden as a toilet, which means children can"t play there.
"A roof leak that was not fixed soon enough led to a silverfish infestation in the building. The housing association are refusing to fumigate. One neighbour found silverfish in their bread and child"s bed. It distresses my two-year-old. I feel so guilty that we moved her here. I feel powerless."
Compiled by Sherie Ryder, UGC and Social News team