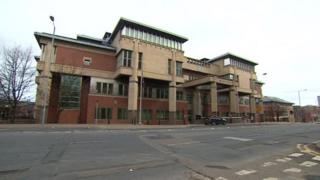 Rotherham child abuse charges: Eight guilty
Eight men have been found guilty of 16 charges in connection with sexually abusing three girls in Rotherham.
The offences happened between 1999 and 2003.
The men, all from Rotherham, are Sageer Hussain, Mohammed Whied, Ishtiaq Khaliq, Waleed Ali, Asif Ali, Masoued Malik, Basharat Hussain and Naeem Rafiq.
Sentencing will take place on 4 November.
They were found guilty at Sheffield Crown Court, after a jury returned guilty verdicts after more than 17 hours of deliberations in a five-week trial.