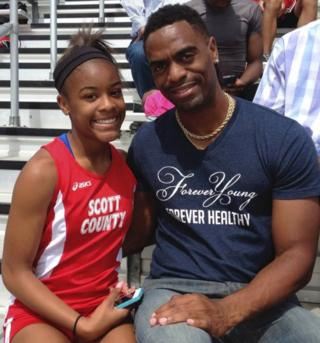 Tyson Gay daughter death: Three held over shooting
Police have charged three men in the fatal shooting of Trinity Gay, the daughter of US track athlete Tyson Gay.
Trinity Gay, 15, died after being shot in the neck amid an exchange of gunfire between two parked vehicles at a restaurant in Lexington, Kentucky.
Police do not believe Trinity was in either of the vehicles involved in the early Sunday morning shootout.
Chazerae Taylor, 38, and his 19-year-old son D"Markeo, face charges for wanton endangerment.
Another man, Dvonta Middlebrooks, was charged with wanton endangerment and possession of a firearm by a convicted felon.
He allegedly fired multiple shots during the incident.
Trinity was a talented sprinter at her local high school.
She placed in the top five for several events in the Kentucky state competitions.
USA Track and Field have tweeted their condolences.