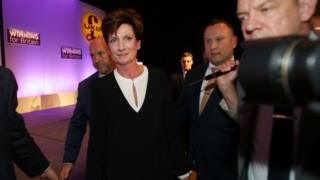 UKIP leadership: The contenders to succeed Diane James
UKIP is to hold a fresh leadership contest after the recently-elected Diane James unexpectedly quit after 18 days in the post. Who"s expressed an interest in running to succeed her so far?
---
Raheem Kassam
A former chief of staff to Nigel Farage, he left his role following a bout of infighting in the wake of the 2015 election and has since become editor of the London edition of the Breitbart website.
He has hit out at what he described as "chicanery and duplicity" at the top echelons of the party and has said he will campaign for a "strong, united UKIP free of Tory splitters".
UKIP, he insists, can be the "driving force" behind Brexit as well as supplanting Labour as the official opposition in much of the country.
---
Bill Etheridge
The West Midlands MEP and Dudley councillor, who came third last time round, is giving it another go, promising to unite the party and end its "squabbling".
"The people who support us and vote for us, they deserve better and it"s time for us to get our act together. I think I"m the bloke who can help do that," he said.
A Conservative activist before joining UKIP in 2011, Mr Etheridge, 46, has called for major reform of the penal system, including restricting prisoners" privileges, banning visits during the first six months of a sentence and an automatic 10-year increase in sentence for anyone attacking a prison officer.
He has also called for far-reaching changes to the tax system, including a 50% cut in alcohol and tobacco duty, replacing VAT with a local sales tax and gradually merging national insurance and income taxes.
---
Peter Whittle
The party"s culture spokesman and most prominent gay representative is putting his name forward to succeed Diane James.
He previously told the the BBC UKIP was "not going anywhere soon" and insisted it was "here to stay".
In addition to his culture brief, Mr Whittle is also a London Assembly member and impressed many with his performance in the London mayoral contest earlier this year, despite coming fifth.
He has also said there is a "great opportunity" for the party to eat into the Labour vote in the north of England, appealing to people who have been "largely forgotten".
A born and bred Londoner, he worked in journalism before setting up the New Culture Forum think tank.
---
Steven Woolfe
The 49-year-old barrister was a front-runner in the contest – but withdrew, and resigned from UKIP, after a row with party colleagues.
Mr Woolfe was taken to hospital after the clash with fellow MEP Mike Hookem in the European Parliament, with the two men giving conflicting verdicts on what happened.
He was previously the bookies" favourite for the job, vowing to make UKIP "the main opposition party", to stand up for the "ignored working class" and to bring about a "radically different political landscape in Britain for a generation".
But he will now see out his term as an independent MEP.
---
Lisa Duffy
Although a previously less well-known figure in Westminster circles, Lisa Duffy, a town and district councillor in Cambridgeshire, came second in the last leadership contest, with 4,591 votes out of 17,970.
She won the backing of key modernising figures in the party such as Suzanne Evans – who was unable to take part in the contest due to a suspension – and Patrick O"Flynn, for whom she is chief of staff.
Ms Duffy – who last time pitched herself as the "grassroots candidate" – has said she is thinking about throwing her hat in to the ring again but would be having a conversation with Ms Evans to decide whether either or both of them would stand.
Ms Duffy, 48, is a former mayor of the town of Ramsey, and as campaigns director played a key role in fighting by-elections. She joined UKIP in 2004 and stood unsuccessfully against Labour"s Hazel Blears in Salford in the 2005 general election.
She has insisted UKIP is "more relevant than ever" following the UK"s vote to leave the EU and argued a strong leader is needed to set the party"s direction.
In her previous leader"s pitch, she said the party needed to broaden its appeal to win parliamentary seats in 2020 but also continue to tackle "taboo subjects" such as the impact of immigration on British communities and the need for a positive vision for "modernised British Islam".
---
Suzanne Evans
The former UKIP deputy chairman, 51, was unable to contest the leadership contest last time round because of a temporary suspension following an internal dispute.
But with that suspension now lifted there is strong speculation she will run.
A former Conservative councillor who defected to UKIP in 2013, she has been credited with presenting a softer, less abrasive side to the party as well as formulating its 2015 election manifesto. But she is also mistrusted by sections of the party.
After being touted by Nigel Farage as his preferred successor last year, she subsequently left the roles of head of policy and deputy chair following a bout of bitter infighting, and her suspension meant she was not able to stand for the London Assembly.
She has said she is "taking soundings" before deciding whether to stand, and that the party"s new leader could occupy what she called "the compassionate, common sense, centre ground" of British politics.
---
Elizabeth Jones
Another former leadership contender, Elizabeth Jones – who came last in the contest to replace Nigel Farage – has also said she is thinking about putting herself forward again.
"I may well do," she told the BBC"s Victoria Derbyshire programme, and insisted she would be prepared for the demands of the job.
Although one of the party"s leading figures in London, she has less of a national profile than the other potential candidates.
Deputy chair of the party"s Lambeth branch, she stood unsuccessfully in May"s London Assembly elections and came fifth in last month"s Tooting by-election.
The family law solicitor is also a member of the party"s national executive committee.
In her first leadership pitch, she said she would bring a fresh approach and different style of leadership to the party, and urged a focus on trade and education in the wake of the vote to leave the EU.
---
Other leading figures
Paul Nuttall: The Bootle-born MEP and former deputy leader is popular with grassroots activists but has yet to commit himself. He ruled himself out of this summer"s contest, reportedly because of the effect that it would have on his family life.
Douglas Carswell: The party"s sole MP, who defected from the Conservatives in 2014, has repeatedly said the job of leader is not for him
Neil Hamilton: The former Tory minister, who is leader of UKIP in the Welsh Assembly, has said he has no interest in becoming leader under any circumstances. Mr Farage, who has a fractious relationship with Mr Hamilton, has said this would be a "horror story".