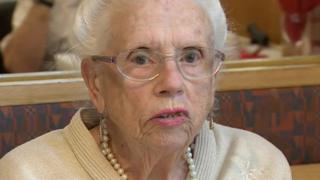 Woman stuck in bath for four days "saved by waitress"
An elderly woman, who was stuck in her bath for four days, was rescued by a waitress who realised she had not come in for her usual lunch and wine.
As first reported by the Southend Echo, Doreen Mann became stuck in her bath and kept herself warm by topping it up with hot water.
Fortunately, Sonia Congrave, 39, became concerned when Mrs Mann did not appear at Tomassi"s cafe for a couple of days.
She called the police who helped the 86 year old out of the bathtub last week.
For more on this and other stories, visit Essex Live
"Doreen is an amazing lady," Ms Congrave said.
"When she didn"t come in for a day or two, we realised something was wrong."
Mrs Mann said she usually went to the cafe four times a week for lunch and a glass of wine and described the establishment as "her second home".
Ms Congrave said now planned to pop round to Mrs Mann"s to help her in and out of the bath.
She also plans to buy her a mobile telephone for emergencies.