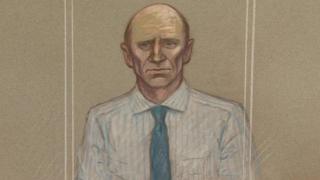 Alleged serial killer Stephen Port "tried to inject drugs" into man
A man fled in panic after an alleged serial killer tried to inject him twice with drugs, a court has heard.
The 35-year-old man told the Old Bailey he had visited Stephen Port, 41, at his east London flat for sex in July 2015.
While on the bed, he said he "heard a click" and that Mr Port was trying to insert something "plastic" into him.
The man said Mr Port, who denies 29 charges including four counts of murder, told him it would "feel good in a couple of minutes".
Prosecutor Jonathan Rees QC asked: "What did it feel like?"
"It didn"t feel right," the man replied, adding he felt a "slight burning" which was "unpleasant".
The man, who cannot be named for legal reasons, told the court the pair met met via dating app Grindr, and Mr Port sent him two photos purporting to be of himself.
There were no lights on and this obscured the defendant, the court heard.
The man told jurors Mr Port pretended to put the item away but then quickly tried to reinsert it, to which he immediately said "that"s it" and got off the bed.
When he turned a light on, he said, Mr Port looked "totally different" from the pictures he had seen on the app.
After asking who he was, he "quickly ran to the front door in case he (Mr Port) tried to stop me. I was panicking," he told jurors.
He said he contacted police after Mr Port was arrested on suspicion of four murders in 2015.
The defendant is accused of murdering the men by giving them a drugs overdose.
He is also on trial for sexual assault, drugging and rape.
He denies all the charges.
The trial continues.