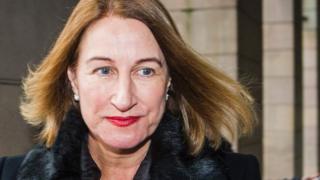 Dame Lowell Goddard preferred to work alone, MPs told
Dame Lowell Goddard, the former head of an inquiry into child sexual abuse, kept panel members at a distance and would have rather worked alone, MPs have heard.
Professor Alexis Jay, her successor, told the Commons Home Affairs Committee that despite this, they tried to make arrangements work.
Dame Lowell Goddard, the inquiry"s third chairwoman, resigned in August.
The committee is quizzing new chair Alexis Jay and two panel members.
"Challenges"
One of them, Ivor Frank, was asked whether Dame Lowell Goddard was a "nightmare to work with".
"I would not use that language. I would prefer to say there were challenges," he replied.
He said she was not always present throughout her 16-month tenure so the panel was able to continue working without very much contact.
"There were times when things were amicable. Other times when it was less amicable," he told the committee.
Who is Justice Lowell Goddard?
During questioning, Prof Jay denied the inquiry had been "an unhappy ship" on which to work.
She said a great deal of work had been done, it had always been "open for business" and it was not true to say it was ever in crisis.
But she acknowledged that had Dame Goddard not resigned, it would have been "very difficult" for the work of the inquiry to be carried out.
In her resignation letter from August, Dame Lowell Goddard said the inquiry had a "legacy of failure which has been very hard to shake off".
She has since been accused of using racist language, something she has strongly denied.