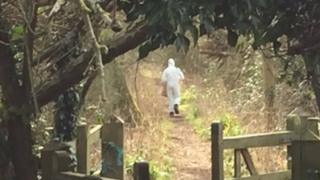 Funeral to be held for abandoned baby found in Oxford
An open funeral is being held for an unknown baby girl found abandoned in Oxford.
The stillborn infant was discovered on a footpath in February. Thames Valley Police failed to identify her family despite appeals.
The funeral at Wolvercote Cemetery, organised by Oxford City Council, starts at 13.00 BST.
Police named the baby "Raihana", meaning "heaven"s flower", and hope people will attend to show sympathy.
Councillor Alex Hollingsworth said: "Everyone, regardless of their personal circumstances, is entitled to a dignified funeral.
"In tragic cases like this, the council ensures that this responsibility is taken care of."