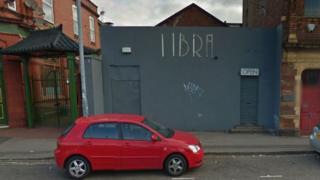 Libra Club brothel: Achilleos Neophytou and Stefanos Neophytou jailed
A father and son who ran a Birmingham brothel which made more than £1m per year have been jailed.
Achilleos Neophytou, 66, and his son Stefanos Neophytou, 25, ran Birmingham"s Libra Club, which attracted up to 200 clients per day.
The pair, who had admitted keeping a brothel used for prostitution, were each jailed for 27 months.
Club manager Martin Tierney was given a suspended 10-month jail term. Three women were handed community orders.
For more on this and other Birmingham and Black Country news
All six defendants had previously pleaded guilty at Birmingham Crown Court to keeping a brothel used for prostitution.