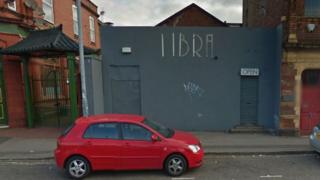 Pair jailed over £1m Birmingham Libra Club brothel
A father and son who ran a brothel which made more than £1m per year have been jailed.
Achilleos Neophytou, 66, and his son Stefanos Neophytou, 25, ran Birmingham"s Libra Club, which attracted up to 200 clients per day.
The pair, who had admitted keeping a brothel used for prostitution, were each jailed for 27 months.
Club manager Martin Tierney was given a suspended 10-month jail term. Three women were handed community orders.
For more on this and other Birmingham and Black Country news
All six defendants had previously pleaded guilty at Birmingham Crown Court to offences committed between 1 January 2010 and 1 February 2015.
"Conveyer belt of prostitution"
Judge Richard Bond said Achilleos Neophytou was the "controlling mind" of the club, which was advertised as a "massage parlour".
He said officers who raided the property in February 2015 found there was "not a massage table in sight".
Instead, they discovered a "highly-organised conveyer-belt of prostitution", where sex workers had been taken advantage of.
"Women don"t ordinarily choose to become prostitutes," he told the court.
Neophytou and his son were told they would serve half of their sentence in jail and the remainder on licence.
Arson attack
Photographer, Tierney, ran the club and took publicity shots, the court heard. The 50-year-old, of Sheffield Road, Sutton Coldfield, received a sentence suspended for two years.
"Madams" Anita O"Donnell and Marilyn Egan, both 55, were given 12-month community orders.
The pair, of Slade Lane in Hall Green, and Elmwood Court, Edgbaston, were also given electronic tag curfews.
Club receptionist Ogun Olufunlola, 30, of Roseby Street, Springhill, was handed a 12-month community order.
The police raid involving 50 officers followed a series of incidents at the club, including an arson attack, a firearms incident and several outbreaks of disorder.
Officers said at the time up to 20 women had been working there.
A proceeds of crime investigation will take place to find out what happened to the money made at the club, Mr Bond added.