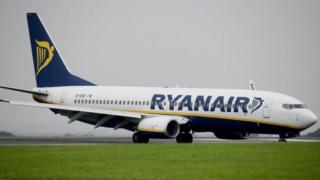 Ryanair cuts profit forecast after fall in pound
Ryanair has reduced its forecast for full-year profits, blaming the drop in the pound following the Brexit vote.
The budget airline said net profit would be €1.3bn to €1.35bn (£1.17bn-£1.2bn), 5% below its earlier guidance.
Ryanair said the "primary cause" of the lower forecast was the 18% fall in sterling since the Brexit vote.
Ryanair boss Michael O"Leary said while better cost control and stronger growth would help to offset the impact it was "prudent" to adjust its guidance.