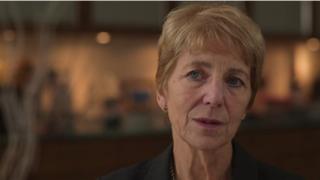 Shaken baby sceptic begins appeal
A consultant paediatrician who disputed the existence of "shaken baby syndrome" has begun her appeal against being struck off.
A tribunal concluded in March that Dr Waney Squier had gone beyond her expertise and had intentionally misled in a number of court cases.
Neuropathologist Dr Squier, who was based at Oxford"s John Radcliffe hospital, denies this.
Her lawyers told the High Court she had given her honestly held opinion.
Shaken baby syndrome, also known as SBS, is a controversial diagnosis that causes about 250 criminal and family court cases a year.
Dr Squier acted as an expert witness in six case involving SBS, including the deaths of four babies and a 19-month-old child.
She has told the BBC she believes she was struck off because her views challenged the establishment.
---
Analysis
Alison Holt, social affairs correspondent, BBC News
Dr Waney Squier is an internationally respected paediatric neuropathologist who challenges the science behind what used to be called "shaken baby syndrome" and is now known as non-accidental head injury
A tribunal concluded she had gone beyond her expertise and been deliberately misleading in a number of court cases.
She denies this, and at the start of her appeal on Monday, Dr Squier"s lawyers argued she he had given her honestly held opinion in what they called one of the most controversial areas of medicine.
---
Dr Squier is one of three British pathologists who are openly critical of SBS theory who no longer give evidence in court.
Aside from her appeal, Dr Squier is also calling for a public inquiry into SBS.