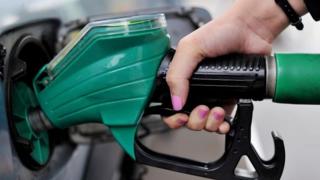 UK inflation rises to 1% in September
The UK inflation rate rose to 1.0% in September, up from 0.6% in August, according to official figures.
It is the biggest monthly rise in the cost of household items in more than two years, the Office for National Statistics (ONS) said.
Rising prices for clothing, overnight hotel stays and motor fuels led to the rise in the Consumer Prices Index.
However, the ONS said there was "no explicit evidence" the lower pound was increasing prices of everyday goods.
Economists had forecast an inflation rate of 0.9% as they expected the weaker pound to make imports more expensive.
Most of the rise in inflation last month was due to the biggest monthly jump in clothing prices since 2010 and a rise in fuel costs, which had been falling a year earlier.
Mike Prestwood, ONS head of inflation, said: "CPI inflation has risen to its highest for nearly two years, though it remains low by historic standards."
The Retail Prices Index (RPI) measure of inflation, which includes mortgage interest payments, rose to 2.0% in September from 1.8% in August.