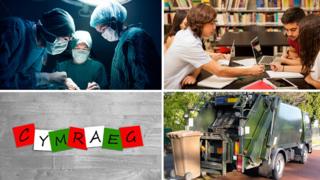 Welsh budget: Labour and Plaid Cymru agree £119m deal
Extra money for health, colleges, councils and the Welsh language has been promised after Plaid Cymru agreed a £119m deal to back Labour"s budget.
With no majority, the Welsh Government needs some opposition support to get its £15bn spending plans passed.
Plaid leader Leanne Wood told BBC Wales on Monday a deal had been done.
Finance Secretary Mark Drakeford said the agreement gave a "kick start" to key priorities, as he prepares to give AMs more details on Tuesday.
However, the Welsh Conservatives criticised the deal, saying they were the "real opposition" to Labour.
Budget talks took place under the post-election deal by which Plaid agreed to support Carwyn Jones"s return as first minister.
The extra money for health includes cash to boost medical training, mental health and new diagnostic equipment.
Nominal cuts planned for local councils – who shared a 2% budget reduction last year – have been cancelled, Plaid Cymru said.
Other measures include a feasibility study into reopening the Carmarthen-Aberystwyth rail line and quicker action on building a by-pass for Llandeilo, Carmarthenshire.
Mr Drakeford hailed the budget talks as "a milestone in the maturity of Welsh politics".
"No party has a monopoly on good ideas and we have been able to incorporate many of Plaid Cymru"s spending plans into this draft budget," he said.
"The budget agreement delivers a kick start to delivery for many key policies and programmes, so the people of Wales can start to see their benefits as early as possible."
Plaid"s shadow finance secretary Adam Price added that his party was using its role as official opposition to deliver "tangible benefits" for the people of Wales.
"In this budget deal, we have secured the biggest one-year budget settlement in the history of the National Assembly," he said.
"This is a £119m package that will deliver and progress many of Plaid Cymru"s manifesto commitments."
However, a Welsh Conservatives spokesman said there was "little reason" to believe the budget would be any different from those which preceded it.
"All of which have categorically failed to deliver the necessary levels of education, prosperity and health for communities across Wales," he added.
On Monday, Ms Wood said the deal was a sign of how Plaid Cymru was cooperating with Labour, following criticism by Lord Elis-Thomas over the party"s stance towards the government.
The Dwyfor Meirionnydd AM quit the party on Friday, claiming Plaid was not "serious" about working with Labour.