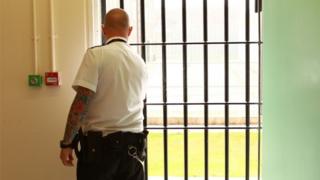 EU prisoners deal "has not met expectations"
A deal to move EU prisoners in England and Wales to their home countries has not worked out "well", MPs have heard.
Michael Spurr, head of the National Offender Management Service, told the Justice Committee only 102 EU prisoners had been transferred in three years.
There are about 4,200 EU nationals in jail in England and Wales – 977 from Poland, which has a partial optout from the transfer agreement
The government said it was working with the Polish government.
Mr Spurr said his officials had only recently discovered that, under the terms of the optout, some of the Polish prisoners could already have been transferred back, but the situation was "complicated".
"Early removal"
Overall, he said, the EU transfer agreements – which began to be implemented in 2013 – had "not worked as well as anybody would have wanted".
An "early removal scheme", under which some foreign offenders could be deported before the half-way point of their sentence, was a more useful means of returning prisoners to their home countries, he said.
Mr Spurr also said about 2,000 overseas prisoners had been sent back to their home countries since April, though the number included all nationalities not just those in the EU.
Prisons Minister Sam Gyimah said talks were taking place with the authorities in Poland to send prisoners back there when the optout came to an end on 31 December.
He told the committee: "We are working with them – with the Polish government – to make sure we can transfer their prisoners as soon as that expires."
MPs also heard that: