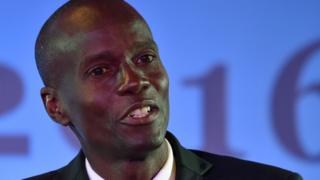 Haiti presidential election "won by Jovenel Moise"
Businessman Jovenel Moise has won Haiti"s presidential election in the first round, preliminary results show.
Mr Moise polled 55.67%, well ahead of his closest rival Jude Celestin"s 19.52%, provisional electoral council chief Uder Antoine said.
Jean-Charles Moise secured 11.04% and Maryse Narcisse 8.99%, he added.
The election was held on 20 November, more than a year after the previous poll was annulled following allegations of widespread fraud.
That vote, in October 2015, was won by Mr Moise but opposition challenger Mr Celestin called foul and, after violent unrest, the ballot was annulled.
Violent clashes have also marked the wait for results since the latest election.