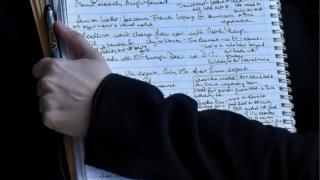 "Have cake and eat it" Brexit notes played down by government
The government has distanced itself from a page of Brexit notes caught on camera in Westminster.
The handwritten notes, carried by an aide to Conservative MP Mark Field, included "what"s the model? Have your cake and eat it" and "unlikely" in reference to the EU single market.
They were photographed after Mr Field and his aide left a meeting with the Brexit department at 9 Downing Street.
The government said the notes did not reflect its Brexit position.
"These individual notes do not belong to a government official or a special adviser. They do not reflect the government"s position in relation to Brexit negotiations," a spokesman said.
Captured on long-lens camera by photographer Steve Back, they refer to difficulties the government faces after it begins the formal two-year process of EU withdrawal next year.
"Difficult on article 50 implementation – Barnier wants to see what deal looks like first," they note, in an apparent reference to the lead EU negotiator Michel Barnier.
"Got to be done in parallel – 20 odd negotiations. Keep the two years. Won"t provide more detail. We think it"s unlikely we"ll be offered single market," they also say.
By Chris Mason, BBC political correspondent
With so much secrecy surrounding the government"s strategy for Brexit, any potential insight into its thinking is seized upon.
It is not known who Mark Field – a vice-chairman of the Conservative Party and MP for the Cities of London and Westminster – was meeting, or if the page of scribbled notes being carried by his aide is definitely an account of talks at the department handling Britain"s departure from the EU.
If it is, it implies that it"s "unlikely" the UK will remain in the single market, and that a transitional arrangement, immediately after Brexit, won"t happen either.
It says that a deal on manufacturing should be "relatively straightforward" but one on services will be "harder".
In what appears to be a reference to the negotiating team the government will encounter in Brussels, the document says: "Very French. Need fair process guaranteed."
The notes appear to suggest that a transitional arrangement – which would allow the UK continued access to the single market after Brexit while it negotiates a new trade deal – is also unlikely.
"Transitional – loath to do it. Whitehall will hold onto it. We need to bring an end to negotiations," the paper reads.
The government has refused to reveal details of its Brexit negotiation strategy in advance, saying it will not offer a "running commentary".
Debate has focused on the level of access the UK could secure to the single market, and whether this would come at the price of greater immigration controls.