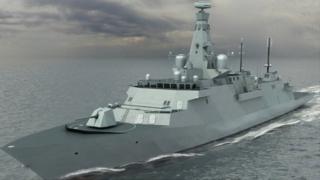 Naval shipbuilding report set to call for shake-up
A review of Royal Navy shipbuilding is expected to recommend that more work on warships be shared among companies across the UK.
Sir John Parker"s report may call for more "modular" construction of naval vessels in different locations.
Defence Secretary Sir Michael Fallon said the approach had been a success in building new aircraft carriers.
This month Sir Michael announced eight larger Type 26 frigates would be built by BAE on Clydeside.
But he has not confirmed that eight smaller general purpose Type 31 frigates will be built there.
The government tasked Sir John, chairman of mining giant Anglo American, with examining how British naval shipbuilding could be kept sustainable and in a better position for exports.
The Financial Times reported this week that he was looking at the potential for taking the Royal Navy shipbuilding monopoly away from BAE Systems.
Ahead of the publication of his report later on Tuesday, the defence secretary said Sir John had provided a "fundamental reappraisal of how we undertake shipbuilding in the UK".
He said: "Taking lessons from our world-class automotive industry and other sectors, it sets the foundations for an innovative and competitive sector capable of meeting the country"s future defence and security needs."
"There is already a vibrant shipbuilding and marine engineering sector in Scotland but we are committed to seeing that grow even stronger, with a new focus on exports," he said.
He said his report identified BAE"s modular construction of sections for the UK"s two new aircraft carriers as having "demonstrated the success of such an approach, with multiple shipyards and hundreds of companies across UK working together".
He also referred to the UK"s economy in the wake of the vote to leave the European Union, saying the report presented "opportunities for the UK"s shipbuilding expertise to become a leading producer of ships for export".
On his visit to BAE"s shipyards in Glasgow Sir Michael announced that the work on building the new Type 26 frigates will start next summer.
But last week a report from the defence select committee warned that Britain"s defences were at risk amid uncertainty over plans to replace the "woefully low" number of Royal Navy warships.
The Royal Navy currently has 19 frigates and destroyers but the MPs said that number could fall unless a clear timetable is set out for replacing older vessels.
The government will publish its formal response to Sir John"s report in the spring.
Royal Navy warships – numbers since 1985
Year
Aircraft carriers
Assault ships
Frigates
Destroyers
1985
4
2
41
15
1995
3
2
23
12
2005
3
3
19
9
2016
0
3
13
6
Source: Defence Select Committee report