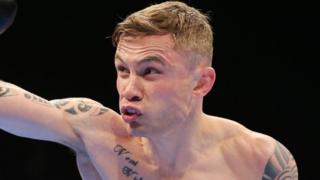 Carl Frampton: SPOTY selection "anti-NI and anti-boxing"
Belfast"s WBA featherweight world champion Carl Frampton has said the BBC"s Sports Personality of the Year selection is anti-Northern Ireland and anti-boxing.
A shortlist of 16 for the award was announced on Monday night.
Frampton won the WBA title by beating the previously undefeated Mexican Leo Santa Cruz in New York in July.
He previously beat England"s Scott Quigg to add the WBA super-bantamweight title to his own IBF title.
Frampton told the Nolan Show that he would have been on the shortlist if he was English.
"I feel like there"s people on that list that I deserved to be on, in front of," the 28-year-old said.
"Andy Murray"s going to run away with it, he"s going to win it and deservedly so, but I still feel out of the 16 I would like to have got in."
Frampton said other Northern Ireland competitors could also have been included.
"[Motorcyclist] Jonny Rea also had a shout, [swimmer] Bethany Firth also had a shout. What it looks to me is maybe anti-boxing and maybe anti-Northern Ireland, who knows. I"m not going to cry about it, I"ll get on with my career.
"No-one"s on it from Northern Ireland – there"s five Yorkshire men on it. I feel that one of the three that I mentioned should have got on.
When asked if he thought he would have been on the list if he was English he replied "yes".
Who decides the shortlist?
The shortlist is compiled by a 12-member panel: