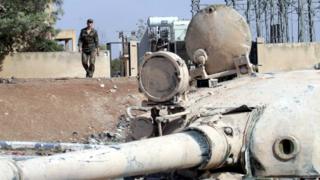 Syria conflict: US admits mistakes led to strike on state forces
The US has admitted carrying out an attack in eastern Syria that killed dozens of Syrian forces fighting so-called Islamic State (IS).
The US-led coalition said the "mistake" on 17 September was intended to target IS positions.
Coalition aircraft from the UK, US, Denmark and Australia were involved in the attack.
The airstrikes were halted when Russia informed the US they were hitting Syrian forces.
"In this instance, we did not rise to the high standard we hold ourselves to, and we must do better than this," said US Lieutenant-General Jeff Harrigian.
A spokesman for US Central Command (Centcom), the American military"s wing in charge of all its Middle East forces, said the mistake was "regrettable", adding that it was not the intent to target Syrian forces.