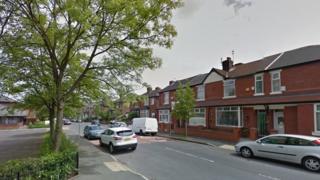 "American bulldog" breed attacks four people in Moston
Four people have been seriously hurt in a dog attack by an "American bulldog-type" breed, police have said.
An "out of control" dog was reported at a home on Bluestone Road in Moston, Manchester, shortly after 12:50 GMT, said police.
Officers said all four people are receiving treatment in hospital, although their injuries are not thought to be life-threatening.
Greater Manchester Police said the dog has since been seized.
The North West Ambulance Service said they have no record of the incident so did not attend the scene.