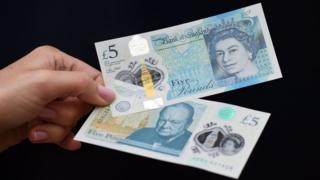 Bank looking to make £5 note meat free
The Bank of England says its supplier is working on "potential solutions" to the issue of animal fat in its new £5 notes.
The Bank said the problem "had only just come to light" and it was treating the concerns with "utmost seriousness".
Vegetarians are angry because the new polymer fiver contains a small amount of tallow, which is derived from animal waste products.
A petition to ban the note has attracted more than 100,000 signatures.
The tallow is used in an early stage of the production process and is "an extremely small amount", the Bank said.
"We are aware of some people"s concerns about traces of tallow in our new £5 note. We respect those concerns and are treating them with the utmost seriousness," its statement said.
"This issue has only just come to light, and the Bank did not know about it when the contract was signed.
"[Supplier] Innovia is now working intensively with its supply chain and will keep the Bank informed on progress towards potential solutions," it added.