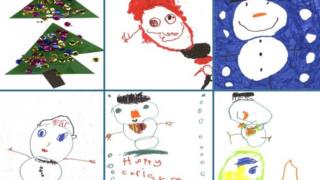 Christmas card printing firm Schoolcardshop ceases trading
A company that converts schoolchildren"s artwork into Christmas cards has gone out of business.
A statement on Schoolcardshop"s website said that its parent company, digital and personalised print supplier Dynamic Colour, was no longer trading.
The Edinburgh-based firm added that further details would be available on the site "in due course".
Schoolcardshop allows families to create and personalise cards.
Schools retain a proportion of the money spent by families on the products.
No-one was available for comment at Dynamic Colour on Wednesday evening.
Some families expressed concern about the company ceasing trading in the run-up to Christmas.
One parent told BBC Scotland: "My daughter"s school was one of those that had signed up with this company to produce cards drawn by its pupils.
"We"ve already paid £12 for two packs that we won"t now be receiving. Have been told we"ll get our money back. I remain to be convinced."