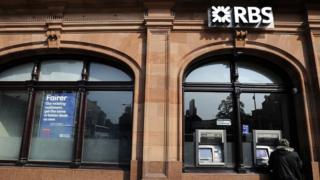 RBS worst hit in Bank of England stress test
RBS has missed key hurdles in a Bank of England stress test, forcing it to devise new plans in case of a financial crisis.
The toughest stress test yet measured the UK"s seven biggest lenders against a global economic crash.
RBS performed the worst and was forced to draw up a new capital plan, which has been accepted.
The bank said it had "agreed a revised capital plan… to improve its stress resilience".
It said the change came "in light of the various challenges and uncertainties facing both the bank and the wider economy highlighted by the concurrent stress testing process".
The bank said the test applied a hypothetical adverse scenario to the group"s balance sheet as at 31 December 2015, and that it had taken a number of actions since then, including the ongoing run down of "risk-weighted assets".
And it said it had continued its reduction in higher risk credit portfolios, and reached settlements with regard to various litigation cases and regulatory investigations.
Barclays also fell short of one hurdle, but its existing capital plan was enough.
Risk factors
The annual stress test gauges the financial strength and resilience of the UK"s seven major lenders – Lloyds Banking Group, HSBC, Barclays, Royal Bank of Scotland (RBS), Santander, Standard Chartered and Nationwide Building Society.
It tests them against measures such as a global economic crisis, falling house prices, and rising unemployment.
This is the third year of stress tests for UK banks.
The 2014 stress test focused on risks to the UK household sector, while the 2015 ones focused more on global risks, particularly with a sharp contraction in growth in China.
This year"s tests incorporate a more severe global stress than either 2014 or 2015, and a domestic stress which is broadly as severe as the 2014 exercise.
The Bank says it "reflects the desire of policymakers to use the stress-test framework to help set capital requirements and buffers for all stress-test participants each year".