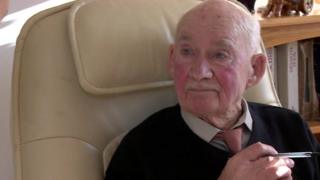 Bored pensioner Joe Bartley lands job after local paper ad
A bored 89-year-old who put an ad in a paper saying he wanted a job has been offered work at a bar and restaurant.
Ex-serviceman Joe Bartley from Devon made headlines around the world with the plea in his local paper saying he was dying of boredom and wanted a job.
Kate Allen from the Cantina Kitchen and Bar in Paignton said: "Not many people are that pro-active, let alone an 89-year-old, so I could not let him go.
"I liked him straight away when I spoke to him on the phone."
She said Mr Bartley, who is set to start work on Sunday, would be clearing tables and helping with other tasks.
"We"re really happy to have him," she said.