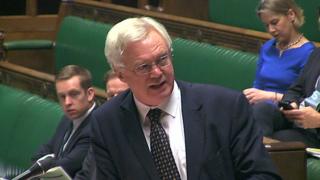 David Davis: UK may pay for access to EU single market
The UK would consider making payments to the EU after it leaves the bloc to secure the best possible access to the EU single market, Brexit Secretary David Davis has said.
Mr Davis told MPs the "major criterion" was getting the best access for goods and services to the European market.
"And if that is included… then of course we would consider it."
He said reports Boris Johnson backed freedom of movement were "at odds" with what he knew of Mr Johnson"s views.
According to Sky News the foreign secretary privately told four EU ambassadors he backed free movement.
But Mr Davis said: "What I"ve seen.. strikes me completely at odds with what I know about my right honourable friend"s approach to this matter.
"He believes very clearly – and he made this very clear in the Leave campaign because he was a much more major part of it than I was. – that some immigration is useful. We all agree on that.
"That"s not the same as thinking free movement of people as it now stands is a good idea. It"s a problem."
During his regular session facing MPs in the Commons, Mr Davis was asked a number of questions about the shape of the future Brexit deal, including one from Labour MP Wayne David, who said: "Will the government consider making any contribution in any shape or form for access to the single market?"
Mr Davis replied: "The major criterion here is that we get the best possible access for goods and services to the European market – and if that is included in what you are talking about, then of course we will consider it."
Taxpayers" money
The prime minister"s spokeswoman said the Brexit secretary was only repeating government policy on leaving the EU.
"What he said in the House this morning is consistent with what we have said … that it will be for the UK government to make decisions on how taxpayers" money will be spent," she said.
"As we approach these negotiations we want to get the best possible access for British business to trade with, and operate within, the single market, while also taking back control of immigration. We are now doing the work to prepare for those negotiations."
Hilary Benn, the Labour chairman of the Commons Brexit Committee, urged the government to publish details of its negotiating plans, claiming MPs were "fed up" at the lack of detail.
Mr Davis argued that "the probable success of the negotiations depend very greatly on us being able to manage the information and keep what needs to be secret until the last minute secret".
"Absolute chaos"
But Liberal Democrat leader Tim Farron accused the government of "sending mixed signals" and of being "in an absolute mess".
Urging a vote on any future Brexit deal, he added: "How can the government claim they have a mandate for their Brexit deal when they don"t even know what it is themselves?"
But Conservative Steve Baker, who chairs the European Research Group of Tory MPs, insisted that paying for market access "would not be free trade", adding that "the government is right not to speculatively rule ideas in or out, however left field those ideas may be.
"Ministers" comments seem to have been over-interpreted. I am not concerned."
During the Commons exchanges Mr Davis confirmed that Article 50, which sparks the formal legal process for leaving the EU, will be triggered by 31 March, 2017.