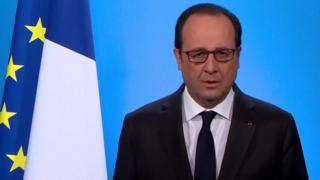 France presidency: Francois Hollande decides not to run again
In a surprise move Francois Hollande has announced he will not seek a second term as president of France.
"I"ve decided not to be a candidate to renew my mandate," the Socialist leader said in a live televised address.
Mr Hollande, faced with very low popularity ratings, has become the first sitting president in modern French history not to seek re-election.
He said he was aware of the risks of not running and warned of the threat from the far-right National Front.
One of the first reactions came from a former economy minister, Emmanuel Macron, who said the president had made a "courageous decision". He is himself now standing for president as an independent centrist, having resigned from the government a few months ago.
But Mr Hollande"s decision not to stand now opens up the Socialist party contest in January. Prime Minister Manuel Valls is likely to be favourite to win the candidacy, having said last weekend he was ready to run.
Last weekend, more than four million French voters chose ex-Prime Minister Francois Fillon to represent the centre-right Republicans in the two-stage vote in April and May.
Latest opinion polls suggest he would win the first round, ahead of far-right National Front candidate Marine Le Pen.