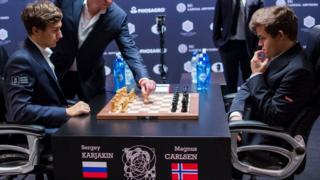 Magnus Carlsen wins third world chess title
Magnus Carlsen of Norway has won the World Chess Championship for the third consecutive time after defeating challenger Sergey Karjakin of Russia.
Carlsen, 25, sealed victory following a series of tiebreakers at the finals held in New York.
Karyakin tied against Carlsen in 12 regular rounds but was beaten in the final phase of four quickfire games.
Organisers said the event was followed by about six million chess fans around the world.
The prize of $1.1m (£879,000) is divided between the two players with the winner taking 60%.