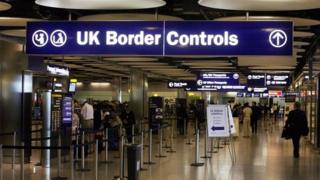 Net migration stays near record high
Net migration has stayed near record levels, standing at 335,000 in the year to June, the Office for National Statistics has said.
There was also a record number of EU citizens coming to live in Britain with the figure standing at 284,000.
Net migration – immigration minus emigration – was the second-highest number on record.
Immigration minister Robert Goodwill said the government was "committed to getting net migration down".
The ONS says the net migration figure is similar to the previous year, although it was up slightly on the 12 months ending in March, when it stood at 326,000.
Immigration to the UK has also risen to a record level with 650,000 migrants in the year to June.
Net migration from the EU was the highest figure on record with the number standing at 189,000.
"An abject failure"
Mr Goodwill said the British people had sent out a "clear message" they want more control on immigration and the government was committed to getting numbers down to "the tens of thousands".
He added: "That is why reducing the number of migrants coming to the UK will be a key priority of our negotiations to leave the EU."
Figures show 311,000 people came to live in the UK for work-related reasons.
But the ONS said there was a "statistically significant" rise in the number of people who were "looking for work", 130,000, compared to 107,000 last year, as opposed to those who had a definite job to go to.
For the first time, Romania tops the list for the country with the most number of migrants to the UK – with 54,000 people coming to live in Britain.
UKIP leader Paul Nuttall said the figures "just go to show that you can"t trust the Tories to bring down immigration".
He added: "This is an abject failure, not just by the Government in general but by the prime minister in particular."
Most of the period covered by the figures was before the EU referendum, but they also include one week after the poll.
Nicola White, head of international migration statistics at the ONS, said it was "too early to say what effect, if any the EU referendum has had on long-term international migration."
She added: "There does not however appear to have been any significant impact during the run-up to the vote."