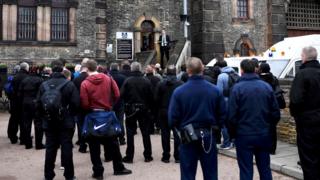 Prison officers offered improved pay and conditions
Front-line prison officers are to be offered improved pay and pensions following concerns about jail safety, the Ministry of Justice says.
The package proposed by the government, which includes a reduction in the retirement age, has been endorsed by Prison Officers Association leaders.
The deal will now be put to a ballot of the union"s membership.
It comes after up to 10,000 prison officers in England and Wales protested last month.
They stopped work over claims of a "surge in violence" in jails but returned to work after a High Court injunction ordered them to end their 24-hour protest.
"Good offer"
Under the agreement, prison officers will be allowed to retire at 65 – up to three years ahead of the current state pension age – at no cost to them and with full pension benefits.
Uniformed staff will also be given consolidated pay rises of between 0.5% and 1% for each of the next three years, on top of usual performance-related pay increases.
They also stand to receive a "recognition and retention" package totalling £1,000.
Prisons minister Sam Gyimah, said the government and POA had also "agreed a significant number of health and safety reforms as well as new powers for governors in terms of how they deploy their staff in prisons".
Justice Secretary Elizabeth Truss said: "This agreement is a good offer which rightly recognises the hard work and dedication of officers across the country doing a tough job."